Our Health and Safety Vision – or also called our "Towards Zero"- vision is for our people to return home safe and healthy every day. Safety is our number one priority. We are committed to safe production and to the proactive management of risks facing our people.
We recognise that the nature of our operations means that we operate in potentially high risk environments. This is why we must constantly focus on the job at hand to successfully identify and control every risk associated with it.

We empower every employee across our operations to turn our vision into reality. We expect our people to stop any job if it is not safe and work together to make it safe to proceed.

We act as one team to create a culture of shared vigilance where everyone takes ownership of their own safety and that of their colleagues.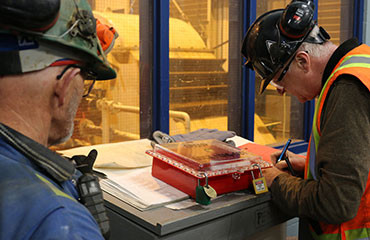 Every leader in Nyrstar should lead by example and be visible in the field. We expect that leaders are visible and will promptly address any safety & health concerns and empower others to do the same.

We believe that every work-related illness and injury is preventable. Our Towards Zero Health & Safety Vision is for our people to return home safe and healthy at the end of their shift, every day. Everyone working on our sites has the responsibility to work safe and to look after each other.